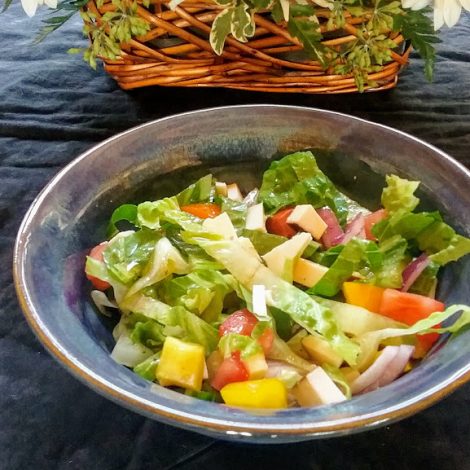 Cooking Tip
When preparing salad, the larger the bowl the better.  This allows you to fully coat the lettuce leaves and mix everything evenly.
Ingredients
1 head romaine lettuce (rinsed, dried and chopped)
1 medium red onion (thinly sliced)
1 yellow bell pepper (chopped)
1 orange bell pepper (chopped)
2 large tomatoes (chopped)
1 cucumber (sliced)
250 g Red Game Changer (thinly cubed)
½ cup (125 ml) olive oil
2 ½ tbsp. red wine vinegar
½ tbsp. maple syrup
¼ tsp. dried mustard
¼ tsp. Italian herb mix
¾ tsp. salt
black pepper (to taste)
Directions
In a large salad bowl, combine romaine lettuce, onion, bell peppers, tomatoes, cucumber and cheese.
Whisk together olive oil, vinegar, maple syrup, herb mix, salt and black pepper.
Pour dressing over salad, toss and serve.
Print this Recipe