Amazing Grey
Gruyere style goat cheese
Amazing Grey's natural sweet flavour brings out the best in goat cheese. This Gruyere style cheese is sure to please even those who are not goat cheese lovers, making it the perfect cheese for serving to friends and family. The aromatic rind gives this cheese a contrasting texture to the interior and typical aromas associated with washed rind cheeses.
Amazing Grey tastes great on a cheese platter with fruits and nuts or as a snack.
170g.  Best before 120 days.
Ingredients: Unpasteurized goat milk, salt, rennet, bacterial culture.
$9.65
Where Else to Buy Stonetown Cheese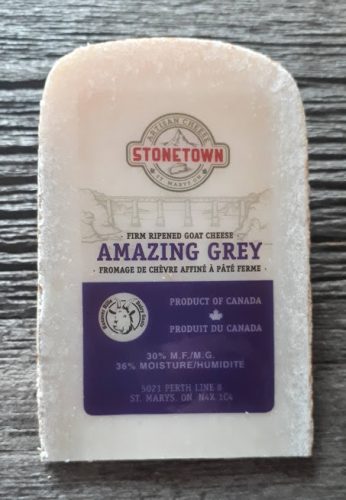 Firm goat cheese, smooth, natural sweet flavour. Aged 18-24 months. Amazing Grey pairs well with white wines.