Our Story
"The taste of the Swiss Alps from our farm to your table!"
With our three children in tow, we immigrated to Canada in 1996 to begin a new life in St. Marys, Ontario, where we  started our own dairy farm. Having previously worked in the Swiss Alps, it was always our dream to produce delicious, high quality cheese reminiscent of the renowned Swiss Mountains and made from our own milk. With a profound commitment  to creating cheese of the highest quality, and the support of our family, as well as Ramon Eberle, a Master Cheese Maker from Switzerland, our humble dream became a reality.
The fresh milk our cows produce is processed into a handcrafted, farmstead cheese. In order to obtain a great taste, the milk is unpasteurized and has no additives. This ensures the cheese is pure and natural.
Life if great. Cheese makes it better!
Check out our Cheese Plant Tours Page to learn about or book a tour!
Swiss tradition locally produced!
Farmstead
Our commitment to produce high quality cheese is best reflected in the care we give to our Holstein cows. They live in a clean and comfortable free stall barn and enjoy feed of the best quality.
We milk 250 Holstein cows in a double 12 parallel parlour. Our cows sleep on beach sand all year round.
Our two sons, together with their families, look after our cows while we make cheese.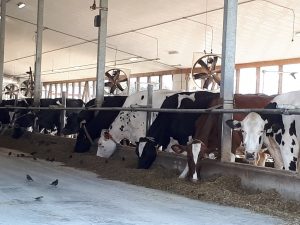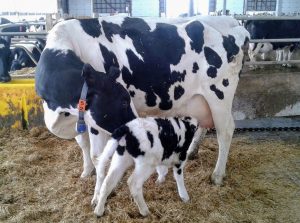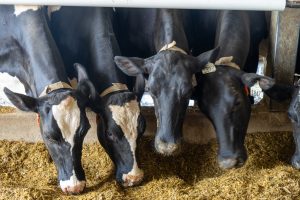 Visit Stonetown Artisan Cheese to experience the scenic beauty surrounding our farm, watch how the cheese is made, try our cheese and enjoy the peace and quiet out in the country.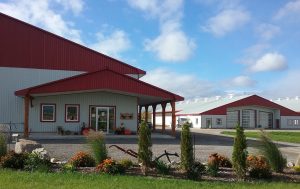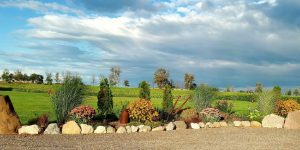 We are located at 5021 Perth County Line 8, St. Marys, Ontario.
Check out our Cheese Plant Tours Page to learn about or book a tour!
Our Team
 Our family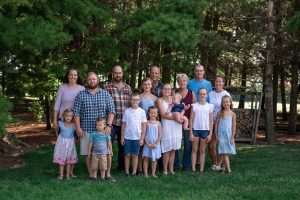 Hans and Jolanda Weber – Founders and owners of Stonetown Artisan Cheese, and proud dairy farmers!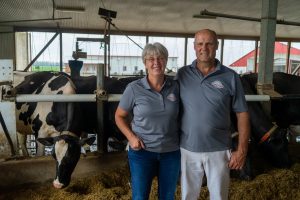 Even though Hans is the owner of Stonetown Artisan Cheese, he is still a dairy farmer at heart. He milks the cows in the morning and after breakfast either helps on the farm or the cheese plant wherever he is needed. He is the handyman who fixes almost everything in the cheese plant and helps out with the store, cutting cheese or getting orders ready. He is also responsible for marketing and sales calls. Of course he loves everything with cheese. In his spare time he likes to travel and spend time with his grandkids.
Jolanda grew up on a dairy farm and lived her whole life farming until she and Hans started Stonetown Artisan Cheese. Jolanda is working in her home office and is responsible for the books, administration, email inbox, social media, marketing as well as handling the website. Occasionally you see her at the cheese store. Jolanda likes spending time with her grandkids, doing pottery, painting, gardening and travel. Jolanda is the one looking after the flower garden in front of the cheese plant.
Ramon Eberle – Our Swiss cheese maker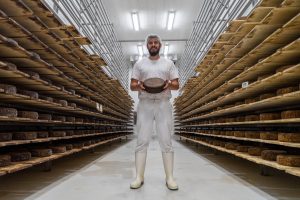 Ramon hails from a long family tradition of Swiss cheese makers. He went through an extensive apprenticeship and further education to become a Master cheese maker.
Ramon is responsible for the production, quality control and food safety at Stonetown Artisan Cheese as well as the development of many of the new exciting dairy products.
Cheese making is his passion and if he is not working in the cheese plant Ramon keeps himself busy by spending time with his wife, 4 children and working in and around their house. Long walks with his two littlest ones through the beautiful town of St. Marys, which has become the young families new home, is how he recharges his batteries on a weekend.
Kalen Devereaux – Assistant cheese maker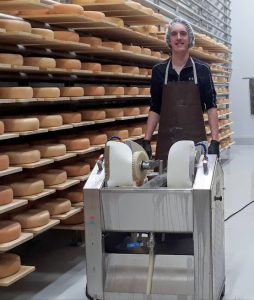 Kalen began his journey in the dairy industry working part time milking cows where he learned about the incredible and complex raw material that milk is. This encouraged Kalen to leave his office job as an Architectural Technologist to pursue a career in cheese making. At Stonetown Cheese, Kalen's main duty is to look after aging the washed rind cheeses like Grand Trunk, Wildwood and Homecoming. Kalen enjoys learning the art of cheese making from Ramon. During busy times he can be found in the store or helping Christine get orders ready. When he is not in the cheese plant, Kalen enjoys golfing and spending time outdoors.
Christine Stevens – Store manager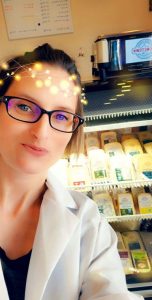 Born and raised on the outskirts of St. Marys is where Christine's love of the country life and cows began. Though a town resident now with her daughters and husband, her country roots hold strong. You can often find her with dirty hands in the garden or relaxing listening to the sounds of the birds. Bruce County holds an extra special part in her heart, where her family trailer is homebase for summers full of great memories. Christine recently joined the Stonetown Cheese team, after 5 years with another local cheese business and is eager to help customers find the best cheese for their needs!