International Cheese competition at SIAL Canada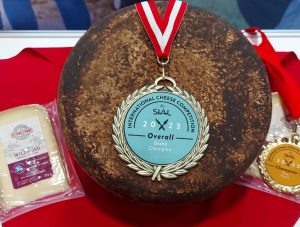 SIAL Canada Press Release : https://sialcanada.com/wp-content/uploads/2023/05/CP-CHEESE-BY-SIAL-2023-EN.pdf
Stonetown Artisan Cheese wins Grand Champion at the  International Cheese competition at SIAL Canada
Toronto, ON, May 9, 2023: St Marys cheesemaker, Stonetown Artisan Cheese has won the top prize for Wildwood in the recent cheese competition at SIAL Canada. Wildwood was named Grand Champion in the international competition that included over 230 cheese entries from 10 countries worldwide. Wildwood was also named the Category Champion in the Firm Cheese Category.
"I am overwhelmed with joy at this win, it was completely unexpected. We are very grateful for our team and the talents and skills of our cheesemaker and business partner, Ramon Eberle, a Master Cheesemaker from Switzerland. We are proud to share this cheese with the world." says Hans Weber, owner of Stonetown Artisan Cheese
"Wildwood is unique in that the curds are washed in the make process, which results in a creamier cheese, and the rind is carefully nurtured just over a year, by washing and brushing it with wine yeasts. Wildwood not only has an impressive flavour, but also has a very rustic and appealing appearance. The aromatic rind gives the cheese a contrasting texture to the interior and typical aromas associated with washed rind cheeses. Wildwood is rich and creamy on the palate with an even balance of salt. Wildwood is named after the Wildwood Dam in St. Marys."
Over the years, Stonetown Artisan Cheese has placed as a finalist in 14 awards.  In 2020, Wildwood placed second at the Royal Agricultural Winter Fair, however this is the first Grand Champion win for Wildwood.
ABOUT STONETOWN CHEESE
Stonetown Artisan Cheese is an on-farm cheese plant located outside St. Marys, Ontario. The award-winning hand-crafted alpine style cheese is made with fresh whole cow's milk from their family farm. The milk is unpasteurized and has no additives. This ensures that the cheese is pure and natural. The cheese making process is very similar to how cheese has been made for centuries in the mountain dairies in the Swiss Alps.