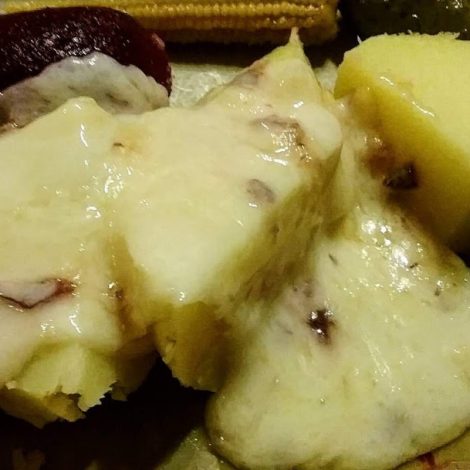 Cooking Tip
Never pile too much food into your individual raclette pan. The food will not cook evenly during the brief cooking time and the cheese will get brown too quickly because it is too close to the heating element. Instead, you should grill more smaller servings.
Ingredients
1 kg potatoes, freshly cooked in their skin, place in a bowl and cover (keep warm)
800 g Homecoming or St. Marys Raclette
paprika (to season)
pepper (to season)
Classic Accompaniments
200 g sweet pickled onions
200 g baby dills
Directions
At the table, every person cooks their own raclette.
Place cheese, potatoes and accompaniments on the table.  Heat the raclette grill.
Place slices of cheese in the individual grill pans and melt under the grill.
Scrape melted cheese onto plate with wooden spatula.
Enjoy with potatoes, accompaniments, and seasoning if desired.
Variations
Pickled corn, pickled whole baby beets, pineapple, ham or bacon.

Print this Recipe